Spiritual Principles in Strategic Alliances
The need for spiritual principles in alliances is a strategic imperative.
"Business needs to become more conscious. The need for change is most evident in our most challenging relationships, strategic alliances. Alliance managers would benefit greatly from embodying the principles in Joe's book, and then lead the way for businesses and the world to awaken."
– Raj Sisodia – founder, Conscious Capitalism Institute; co-author of Firms of Endearment and Conscious Capitalism; and Franklin Olin Distinguished Professor of Global Business, Babson College, Wellesley, MA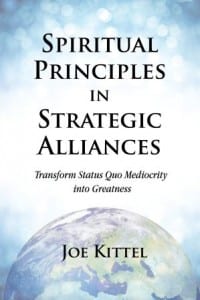 The ideas in this book are 
clear
 and 
bold.
 Clarity and boldness are also attributes of great strategic alliance managers, like 
you
. We cannot afford to mince words – there is too much at stake.
Most alliances fail because businesses fail in the artful science of relationship. Evidence of poor relationship includes low trust, poor communications, and a fear-based climate – all of which impede value-discovery and value-creation.
Practical spirituality is about the deepening of relationship and bringing greater creativity into the world. Therefore, the need for spirituality in strategic alliances is clear and compelling; the need for spiritual principles is a strategic imperative. But how to bring spirituality into business has not been so clear, until now.
This book provides rational level-headed arguments for why spirituality is needed in business, especially in strategic alliances. It presents a way to think about and talk about these ideas without stirring up either pro- or anti-religious zealotry. It provides a set of practical things to think about and do – principles and practices – which deepen relationship. The embodiment of these ideas transforms alliance managers and their alliances; they increase their value-creating effectiveness. These ideas will awaken business to the truth within.
The July 2009 edition of this book were published as an ASAP Best Practice Bulletin, a monthly membership bulletin by the Association of Strategic Alliance Professionals. The e-book is free to any ASAP member (let me know if you are a member of ASAP and would like a copy).
Written by and for strategic alliance managers with substantial experience, this book embodies the spiritual practice of self-obsolescence; I am freely (for $24.95) giving away my best ideas. Spiritual Principles in Strategic Alliances: transform status quo mediocrity into greatness. Hardcopy and Kindle (epub) formats are available on Amazon. Click here to purchase it as an e-book.
Spiritual Practices in Relationships
The next book is in progress. It is a compilation of whitepapers, presentations, and consulting experiences based on spiritual practices – authentic transformational behaviors which deepen relationship. Stay tuned…