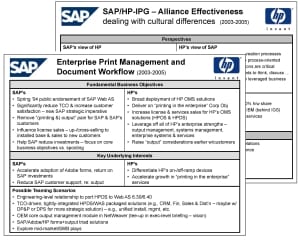 We provide training, consulting, and coaching services on the alliance-transforming 
2-Slide Methodology
TM
. This simply powerful process is based on 30 years of research at the 
Program on Negotiation
 and it is grounded in 20 years of real-world experience. The value-impediments slide from the HP/Microsoft corporate-level alliances is featured in a
Harvard Business Review article
(pages 5-6).
.
Don't let the seeming simplicity of something called a "2-Slide Methodology" deceive you of its transformational power.
"Joe's assistance in Intel's strategic alliance with Capgemini fundamentally impacted the entire alliance. Use of the 2-Slide MethodologyTM transformed our alliance in positive and amazing ways, top-to-bottom."
– Robyn Shean – Intel, Capgemini Global Alliance Manager; Wokingham, UK
Example slides from the HP/SAP alliance and HP/Microsoft alliance.
.
Principles in this Methodology
There are four basic ideas ingrained in the 2-Slide MethodologyTM:
By deeply listening to the voice-of-the-collective, personal buy-in and team alignment naturally happens.
Simplicity is empowering to an alliance manager and their alliance; it brings clarity and focus, neutralizing both complexity and dysfunctional drama.
The process of traversing from complexity into simplicity is transformational.
The essence of any strategic alliance can be described in 2 slides:
incremental value (what the alliance is all about, its vision)
value-impediments (what stands in the way, with recommendations)
.
Our Challenges
This methodology helps strategic alliance managers overcome some of their greatest challenges:
Low levels of trust. Trust is the foundation in any relationship, especially in strategic alliances. We constantly struggle to maintain and build trust in these business relationships.
Cultural and strategic differences. In strategic alliances the cultural and strategic differences between the partners are often the greatest impediments to value-creation. Over time these differences can be used for the betterment of the alliance, but initially they are challenges.
Overwhelming complexity. Here is an incomplete list of what makes our work complex: technologies, legal issues, organizations, decision-making, communications, regulatory issues, financial issues, business plans, reviews, metrics, governance, co-marketing and co-selling.
Dysfunctional drama. Alliances involve people. With interpersonal relationships we often have dramatic distractions.
Lack of buy-in, alignment and focus. The alliance team often lacks a clear and cohesive focus. Individuals are not necessarily committed to the alliance's purpose.
Value. Value-creation is what a strategic alliance is about. And yet value can be a challenge. We might struggle to articulate the value of our alliance and the value of our own role in the organization. And, even if we are clear about the value expected from the alliance, creating and extracting that value from the alliance can be challenging. We might feel frustrated, sensing there is untapped potential in our alliance.
Process Overview
Here are key attributes of the process in the 2-Slide MethodologyTM:
Simple is not easy. Getting to the other side of complexity is hard work. This methodology entails the ability to listen to the voice-of-the-alliance and then distill down what is heard – distill down to the alliance's simple essence. This is hard work, but it is well worth the effort.
Listen to the voice-of-the-alliance. It may seem counter-intuitive but the first things you want to hear about are the problems, issues and challenges in the alliance; these things obscure the alliance's value. In addition, by proactively dealing with problems you build trust and creating a more open and collaborative climate. Then you can more clearly uncover the value-creating opportunities, again by deeply listening to the voice-of-the-alliance. This will lead the alliance to define teaming scenarios and a compelling long-term vision.
Listen throughout the alliance. Deeply listen to people from all functional areas, at all levels and on both sides of the alliance. The more you listen the better the results.
An on-going and iterative process. This methodology calls for obsessiveness; take the 2-slides with you everywhere and always. As you continually share its content and listen for new insights, the content improves like a fine wine. As the content improves you will become more empowered to lead the alliance.
The value of this methodologies lies in both the process and the content of the 2-Slides. Mostly it's the process, which builds trust and opens up collaborative communications. The process creates a healthier atmosphere.
.
Benefits of Simplicity
If being simple is hard work – why do it?
The on-going and iterative nature of the simple 2-Slide MethodologyTM process allows us to:
Overcome complexity. Given this methodology is all about simplicity, this benefit may be obvious but nonetheless needs to be stated. By overcoming complexity significant time is freed up, this can be unnerving from some as they ask, "Now what do I do with all of this time?" What if their job was radically simpler?
Increase trust. By dealing with difficult issues, trust naturally improves.
More open communications. When cultural and strategic differences are understood and addressed, dysfunctional drama gets neutralized and communications become more open and trust-filled.
A healthier and more collaborative atmosphere. Based on greater trust, less dysfunctional drama and more open communications.
Increased team buy-in, alignment and focus. When people know they have been heard, team alignment and focus increases.
A clear and compelling long-term vision. As new value-creating opportunities surface the long-term vision becomes clearer.
Completely leverageable content. With content that captures the essence of the alliance the 2-slides are helpful in any situation, with any audience and in any process:

Negotiating contracts
Developing informal teaming agreements
Developing performance metrics – tangible and intangible, near-term and long-term
Executive briefings
Alliance reviews
Spontaneous requests for status updates
Spontaneous offers to help
Developing go-to-market collateral
Enabling co-selling and developing co-selling tools
Managing escalations
Developing press releases
Press briefings
Enabling

simple ecosystem architecting and development

 (also refer to section 5.8 Business Ecosystem Management in the 2-Slide MethodologyTM whitepaper)

Alliance structure and governance. With a clear understanding of the unique opportunities and challenges in the alliance, its organizational structure and governance processes are naturally defined.
Adaptive and organic leadership. By being grounded in the voice-of-the-alliance your ability to lead will adapt to any situation or opportunity. The value of your role becomes clearer as you become more value-able.
.
Why This Methodology Transforms
From a spiritual perspective one could say that this methodology illustrates the transcendental and transformational power of shared light – it demonstrates the power in the voice-of-the-collective.[i] It is about the power in finely-focusing collective attention, the power to see through obstacles, to see into the future, and to create net-new incremental value.
There is transcendental and
transformational power in shared light.
This methodology fundamentally transforms strategic alliances and partnerships because:
Deep listening and reflection. As people know they have been heard personal buy-in increases, they become less emotionally-attached to issues, and they become more open to new ideas.
Listening is a form of loving. When another has been deeply listened to, they feel loved and it is naturally reciprocated. This reciprocity of love happens in individual relationships and in our relationship with a collection of individuals (i.e., with an alliance team).
Spirit lives in the midst. We draw closer to the spirit-in-the-midst and we hear the voice-of-the-collective. Spirit has intelligence. It is the source of creativity and enthusiasm. It is associated with love and a sense of home. Checkout this 2-page PDF for an illustration of the beauty-of-collective-relationship amongst 12 people.
Transcendental power of shared light. The collective's attention (their light) sees through value-impediments and shadows. It sees the problems as well as answers to those problems. The collective knows how to bridge the cultural and strategic chasms every-present in inter-company business relationships.
Transformational power of shared light. After the impediments have been overcome the collective can see all of the value-creating opportunities that no single person can see. It sees a clear, compelling, realistic and inspirational long-term vision for the alliance.
Simplicity. Simplicity transcends complexity. Given alliances and partnerships are extraordinarily complex, any simplicity brought into the business relationship is by definition very helpful.
Clarity. By clearly seeing through value-impediments and clearly seeing the long-term vision, enthusiasm naturally grows.
Empowerment. Simple clarity empowers the alliance manager. This methodology becomes the basis for empowering others via Self-Obsolescence. The content of the 2-Slides provides a framework for giving and receiving.
Disruption. First the alliance manager gets disrupted as his/her job becomes radically simplified. This simplicity allows them to focus on relationship issues – where no one else can or will focus. They are then freed up to provide healthy disruption into the rest of the organization.
Focus. With simple clarity the alliance manager is enabled to be more effective in negotiations, communications, briefings, reviews, program planning and strategic business planning. At anytime, in anyplace and with anyone they can now clearly articulate what the alliance is all about, its vision, its challenges and solutions to those challenges.
Forgiveness. Ultimately this methodology is about seeing past the shadows in order to see the simple truth on the other side – this is the art of forgiveness.
.
The Simple Essence
The essence of any strategic alliance can be described in 2 slides using the 2-Slide MethodologyTM.
Incremental value – objectives, interests, teaming scenarios and long-term vision.
Value-impediments – the cultural and strategic chasm practical recommendations for overcoming these obstacles.
There is great power in simplicity.
.
Next Steps
See a value-impediments slide illustrating cultural differences between Indian and US high-technology companies.
Read Ideal Engagement Model.
.
______________________
[i] It is not a requirement that you accept spiritual principle in order to apply this methodology. Spirituality merely helps you understand the fundamental principles. Read Spiritual Disclaimer.